I am a crafty business owner and get requests often to donate my products to fundraisers and benefits.  They all say the exposure will be great – but will it really?  I am also a baseball mom and have asked businesses to sponsor our baseball team for years, and some of that process has helped me develop my own process for my crafty business.
ABOUT ME
I have been a life-long crafter and in the beginning it was just a hobby.  I LOVED making things and giving them to family and friends – it made me happy.  Once I transitioned out of my in-home daycare job into crafting full-time, I could no longer afford to give my products away.
WHEN I STARTED
As a small business owner, pricing my work, finding my ideal customers and getting my work in front of my ideal customers became very important to the success of my business.  Plus, when you subtract out your materials and labor from the amount of the sale, the profit is spilt between you and Uncle Sam!  So even on the products we sell, we don't make a ton of money (most times) and we need every cent to pour back into our business and our family budget.
When I started out selling my crafts years ago, I posted a $40 wood sign in the FaceBook Marketplace.  The VERY FIRST comment was someone I did not know asking me to donate my sign to his fundraiser.  The second comment was a girl who tagged her friend – we all know this means she wants her friend to make it for her cheaper….
To say I was frustrated was an understatement (and I deleted my post without replying to either comments).
Now, some of my friends still tag me in FaceBook Marketplace, and I usually go in and tag my business.  I will NOT engage in a bidding war as I know what my product and time is worth.  I have received a few orders from people who saw my business name in the thread and messaged me privately, BUT the majority of my customers come from craft shows and people who know me already.
DONATIONS
As I mentioned earlier, I am a baseball mom and have had to request donations.  We have 18-20 baseball teams in our organization and some have asked me to donate to their fundraisers.  Because baseball is close to my heart AND because I know them, that was an easy yes.  Did I do it for exposure – maybe but that was not the main reason.   Speaking of exposure, the truth is you really won't get much exposure except for the person who wins your prize.  And if the prizes are drawn randomly – the winner may not be your ideal customer or even like the prize!  You should definitely include extra business cards, but don't expect a rush of customers flooding to your website or ETSY shop.  Most people buy from people the Know Like and Trust – and all they saw was your product.
When I asked medium and large businesses for donations, they all had an annual budget for sponsorships and donations and when that amount was gone, they said no.  The did not feel guilty.  They did not profusely apologize.  They did not justify their budget or who they chose to donate to – AND YOU SHOULD NOT EITHER!
GUIDELINES
Here is how I handle donations.  I have 2 causes that I support each year – one is the High School Backers Night and the other is a good customer's football banquet fundraiser.  My son will go to this high school next year and the backer night supports the athletic department.  I have room for one more and my criteria is it has to be someone that I know (a customer is a plus) and a cause that is important to me.  My third donation in 2019 was a benefit to help pay for my friend's niece's cancer treatment.  My friend is a regular customer and her niece is in remission!!!
MY EXCEPTION – I can create a shirt design, upload it to a Print on Demand platform (I use Printful) and sell the shirts on ETSY.  This takes a minimal amount of my time to set up and I just post it on my social media.  I do not press, package or ship them – Printful does.  They calculate the exact amount of profit and I donate that.  I have done this twice so far, once for the Nebraska Floods in 2019 and for the animals in Australia 2020.  No one asked me to do either of these so it is not really the same thing.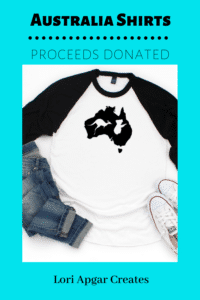 So what can you say to someone when your answer is going to be no?  Here are some examples:  I have already committed to my allotted fundraisers for this year.  As a small business owner, my budget allows only a couple of donations a year and I have already committed to them.   I do not have product ready that I can donate at this time.  I can not donate at this time.
If they respond negatively or demand that you reconsider, I would not respond and move on.  This had happened to several crafty friends of mine and it really puts a bad taste in their mouth.  They clearly don't respect you or the time you put into making things for your business and are never going to be your ideal customer.
Notice not once did I apologize!  This is very important.  Large corporations don't apologize or even give it a second thought.  Once I realized that, I stopped apologizing!
Here is a Video I posted on my page discussing this very topic!  VIDEO
I hope this help you navigate these requests for your work!!
xoxo Lori
If you want more information on Printful, click HERE
Lori Apgar Creates is an affiliate for Printful which means I receive a small percentage of the purchase price for anyone who signs up using my link.  The purchase price is the same to the customer.