Mother's Day is coming up on May 12th this year!  Do you buy or make a gift for your mom?  What is on your wish list this year if you are a mom or grandma?  Mother's Day is a weird day for me as my mom and both grandmas have been celebrating together in heaven for a long time.  My mother-in-law and my step-mom are both difficult to buy for as they have full houses!  We prefer to spend time together, but that can be tricky during baseball season!!  Also our local high school graduation is always on Mother's Day (two kids down, one to go)!!
I have a few gift making ideas if you want to make something for the moms in your life.  If you want a tutorial on any of these, please leave me a comment so I can get them scheduled!
This wood sign is approximately 6″x24″ with some twine attached to the bottom to hold pictures.  It is a simple sign to make – just one color – but makes a big statement!!.  You could easily change the words to fit your situation (Look what -name of child- did, My Kids are Amazing, Chlid(ren) names).
A wood sign with one simple word on it is always a great gift.  This one is 16″x36″ but you can make it whatever size fits your space.  Instead of Gather, you could use Family, Love, Blessed or even your last name.
All moms and grandma's need a good tote bag for all of those snacks.  You can take a bag from Michaels or Hobby Lobby and personalize it for her!  You can also find some totes HERE.  I heat pressed on this bag, but you can also paint the tote with fabric paint!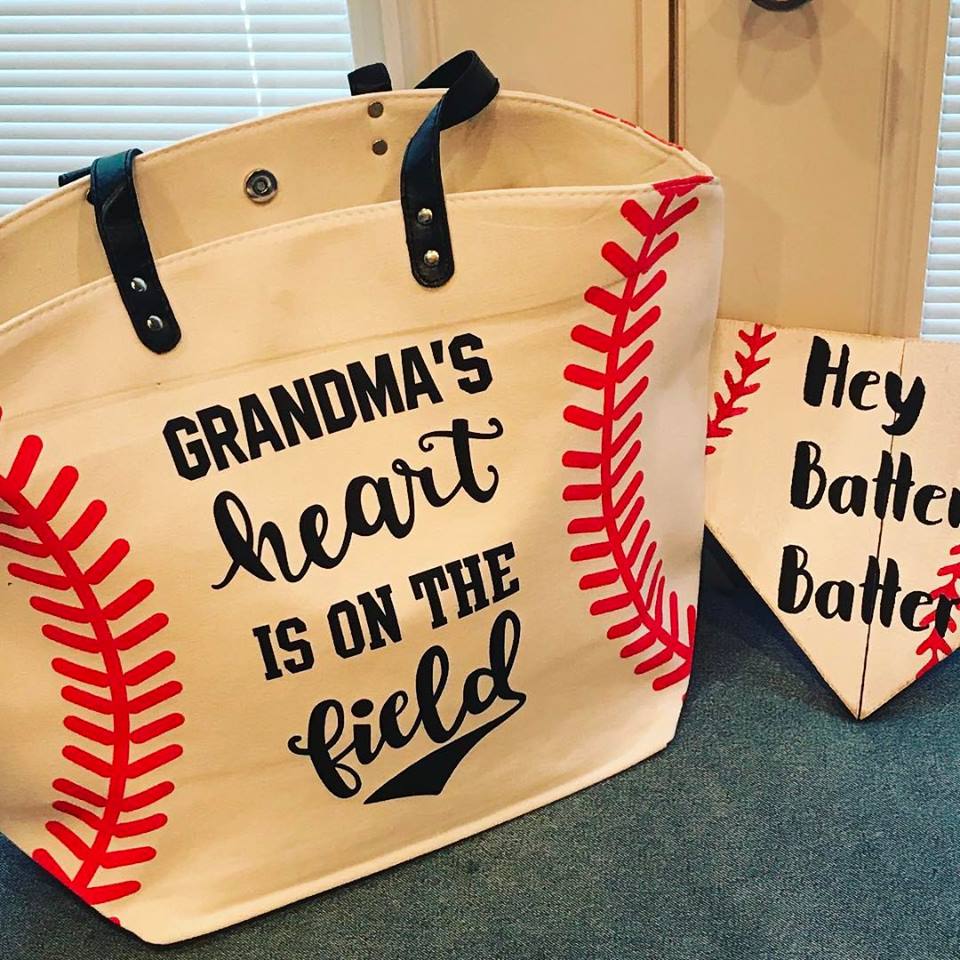 Burlap garden flags are always a big hit!!!  This one is laminated on the back and can be found HERE.  I used acrylic paint and painted a simple flower on it and a word.
You can personalize a shirt with some Bling by Zing – I can get many designs for you and put them on a shirt.  Leave me a message below if you want more information.
I have a few gift ideas that may work for the crafty moms in your life (or to share with the husbands of said crafty moms):
I love my Silhouette Cameo and use it almost every day!  This time of year they are on sale just in time for Mother's Day!!  (Color may vary)
Silhouette Cameo Electronic Cutting Tool
This is the Heat Press that I have (mine is red) and I have used it for over 4 years.  It is a 15″x15″ Clam Shell press. (click on photo)
If a heat press seems to BIG for you, you might consider a Cricut Easy Press!  It is 9″x9″ and very lightweight!  (click on photo)
This is the new version of the Cricut Tool Kit that I love and use with every project!!  (Click on photo)
Many people ask me about my Oramask 813 Stencil Vinyl – this is an affordable roll that is great for the beginner.  You don't have to commit to a ginormous roll in case you don't like it!! (click on photo)
I included a couple of non- crafty items just because!!  This is a darling necklace but it did not have a picture option.  Jewelry is always a good gift idea!!!  Click the link and see how pretty this one is!
This necklace saying is a classic!!  If you need an affordable yet adorable gift idea – here is a great one!!  (click on photo)
Lori Apgar Creates is a participant in the Amazon Services LLC Associates Program, an affiliate advertising program designed to provide a means for sites to earn advertising fees by advertising and linking to amazon.com